VayK Gear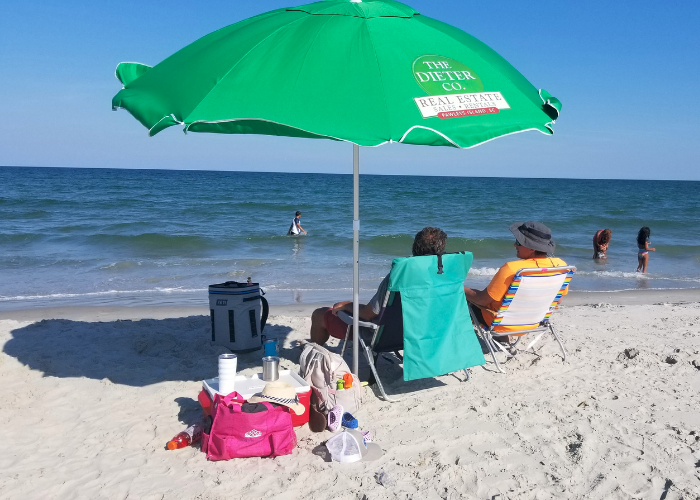 Many of our Pawleys Island and Litchfield Beach rental properties feature a $250 weekly credit though VayK Gear for chairs, umbrellas, bicycles, kayaks, paddle boards and more. This program is available participating properties for rentals from 5 – 21 nights.
How It Works:
You will receive an email directly from VayK Gear upon confirming your reservation with The Dieter Company. This email will contain a unique link, with $250 already applied, allowing you to reserve the items that best fit your individual vacation needs. We recommend using the whole credit to help make your stay even more enjoyable! You are welcome to order additional items as well. The gear is then delivered to your property on your day of your arrival and picked up from the property upon your departure.

Frequently Asked Questions
Do I really get $250 Gear with my vacation?
YES! Participating vacation properties include a $250 credit. 5 night minimum stay up to 21 nights. Some properties do not participate in this program and will not have any reference to beach gear credit included with their property description.
What if I want more than $250 of Beach Gear?
There is no limit, or all you want! The first to $250 is already included, but there is no limit to help with your needs. You will simply pay the difference in price.
What if I'm just staying only a few days?
The gear credit is only available for stays 5 nights or longer.
What happens if the credit is not used?
Remaining credit is good for beach gear items until it expires 24 hours after arrival. There is no cash value and any unused credit is not transferable, so make sure you use the full amount.
What kind of beach gear can I order?
VayKGear, the company providing the equipment, offers Bikes, Beach Loungers, Beach Umbrellas, Kayaks, Stand Up Paddleboards, Corn Hole Games and more to make your Pawleys Island vacation even more enjoyable
How do I order and receive my beach gear?
After confirming your vacation reservation with The Dieter Company, you will receive an email directly from VayK Gear with complete details. They have created a special link that will pull your reservation address and dates. Based on the location you will be provided a list of items that can be ordered and delivered to your rental property on the day of arrival. If the email was missed, just click here for the website to view available gear options.
Do I have to select gear immediately after making a reservation?
No. You may order beach gear items up to 48 hours prior to check-in. Please make selections by then or VayKGear cannot guarantee availability or delivery schedule.
Where do I get the gear and how do I return it?
VayKGear will deliver it to your rental on the day of arrival! On the last day of your vacation, leave the gear where you find it and they will pick it up too! Items are stored in their warehouse, so no storefront is needed or available for their gear selection.
What if a change is needed for my gear order?
You may change items up to 24 hours after arrival. Please note: Selection changes can be made up to 48 hours of arrival free of charge. Selection changes made after 48 hours prior to arrival are subject to availability and make incur a delivery charge.
Do I need to put down a deposit for the beach gear?
No deposit is needed. VayKGear may ask for your credit card to keep on file for damaged or lost gear.
What if my stay is longer shorter than 5 nights or longer than 21 nights?
Gear is available for an additional charge. It is not included in the cost of your rental.

What if there are problems with the gear?
Call VayKGear directly at 1-888-577-7412 or email support@vaykgear.com.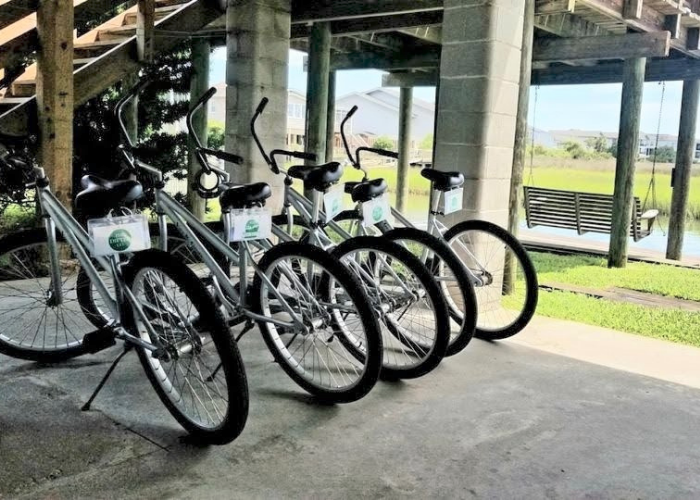 Guest feedback and statistics about VayK Gear:
98% of Dieter Company Guests rate the Beach-Gear-Discounted program Very/Extremely Convenient for their Vacation!
96% rate the Beach Gear selection process Very/Extremely Easy to Use!
95% of Guests say VayK Gear added value to their stay!
89% of Guests say they are More Likely to Rent a Dieter Company Property Again because of VayK Gear!
Guest Testimonials for VayK Gear:
"So nice to have one less thing to worry about! Forget the hassle of bike carriers and making room in your car for chairs and umbrellas. VayK Gear was there when we arrived. Great service!"
"Super easy process, gear was already waiting for us at the house when we arrived. Putit out and it was picked up when we left. Couldn't be any better!!"
"Excellent service and we really enjoyed not having to bring bikes, etc. with us! Thank you!"
"Awesome! We'll never take our own chairs and cart again!"
"This was a great convenience for us. The skim board was brand new, and the chairs and umbrella were new this season. Very comfortable and made our beach days wonderful!"
"It was great to have the chairs and umbrellas waiting for us to use when we arrived and not have to pack them in the car. Everything was clean and in perfect condition. I will definitely take advantage of this program in the future."
"Easy, convenient, and we really enjoyed having the bikes and corn hole for the beach!"
"We will definitely consider this service again in the future with another beach stay!"
"Having these items delivered worked perfectly for us, as we did not have to bring items from home."
"We felt more comfortable using this company since it was through the Dieter company. It is a nice addition to renting and will use it again next year."

"Gear was waiting for us when we arrived! Awesome!"
"It was a huge asset! To have the gear present when we arrived was brilliant! The gear was great Everyone enjoyed it. We will definitely do it again!"